Run Smart. Run Strong. Run Right.
Improve Your Performance, and Decrease Your Risk of Injury
---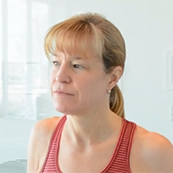 "I had Achilles and heal surgery about a year and a half ago, and I was told by the surgeon that wouldn't be able to run again…In working with Jon and RunRight, I was able to start running again, and I ran my first marathon about six months ago."
– Karen S.
---
You have a 70% chance of experiencing an injury as a result of running.
RunRight cuts your chance of injury down.
How do we do that? By making sure you have the right shoes and form And by identifying points of weakness and giving you the tools you need to get stronger. And if you do injure yourself, come in for a free injury screening…but please, don't injure yourself.
---
Which Option is Right For You?
$75
Gait Analysis
45 min. Session
Features
Biomechanical Analysis
Footwear Suggested
Weaknesses Identified
Flexibility Assessed
Posture, Form Corrected
Best Value – $100
Injury Prevention
Two 45 min. Sessions
Free Screening
Injury Recovery
15 min. screen
Features
Free Screening
Treatment Recommendation
Referral to Dr. Enke
Follow-up PT (if needed)
$75/session
Enhancement
45 min. sessions
Features
Reduces scar tissue
Rebuilds damaged muscle
Treats Chronic Injuries
Fast Pain Relief
88% Success Rate
Prevent overuse injuries
Fast Pain Relief
Speed up self-healing
95% Success Rate
You can keep training
Call 779-774-1293 to Make An Appointment.
Your joints will thank you.
---
Resources

12 Stretches to prepare you to run
Feel free to download and share our Running Shoe Selection/Replacement Guide, Pool Running Options, Training Log, Nutrition Information.