Cory Belnap, PA-C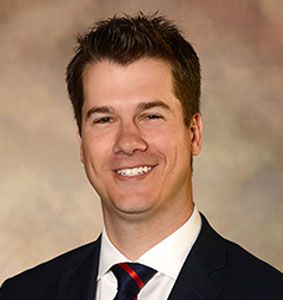 Certified Physician Assistant (PA-C), Certified Athletic Trainer (ATC)
I am originally from Orem, Utah. I began my healthcare career in Orthopedics as an Athletic Trainer in Salt Lake City, Utah where I worked closely with Orthopedic Surgeons and Physician Assistants and saw the unique relationship that allowed them to provide excellent orthopedic care in a collaborative effort to their patients. It was during that time I solidified my decision to continue pursuing my career goal of becoming an orthopedic PA, and have never regretted my decision to do so.
Brigham Young University (Provo, Utah) – Bachelors of Science: Athletic Training
Quinnipiac University (Hamden, Connecticut) – Masters of Health Science Physician Assistant Studies
Since graduating from PA school in 2014 my family and I moved to Rockford where I began my career at OrthoIlliois. My primary role at OrthoIllinois is in our hand department, working alongside Dr. Edric Schwartz. We are focused on providing excellent, sub-specialized care to all ages with regards to conditions related to the hand and upper extremities. My role as a physician assistant also allows me to work in other departments routinely. I have been fortunate to work along so many well trained, sub-specialized surgeons.
I strongly believe that high quality healthcare begins with respect for others and good communication between provider and patient. Patients show a tremendous amount of trust when walking through our doors looking for answers to their questions and ways to improve their orthopedic health. Other times they have injuries that render them handicapped from the life and activities they enjoy. It is my goal each day to live up the standards each patient has entrusted us with. The greatest reward we have as orthopedic providers is seeing our patients return to do the things the love the most.
In addition to my role as a physician assistant I enjoy spending time with my great family, golfing, and being outdoors.
Assists
Edric Schwartz, MD, Hand, Wrist & Elbow
Education
Bachelor of Science degree, Athletic Training – Brigham Young University
Masters of Health Science Physician Assistant Studies – Quinnipiac University