Ben Parlapiano
A Strong Sneeze, Sharp Pain—and Two Herniated Discs
It was a warm summer morning in Rockford, Ill. in August of 2017. 22-year-old college student Ben Parlapiano had just gotten up and was getting ready for the day.
"Suddenly I sneezed, and the pain was so bad I fell to the floor," says Ben. "At first I thought I must have pulled a muscle. But after several months it was still bothering me, so I knew it was a bigger problem."
His instincts were correct: he had an MRI, which revealed two herniated discs in his lower back.
Ben's mom, who works in the medical profession, had knowledge of area orthopedic providers where Ben could potentially go for treatment. "She wanted me to go to OrthoIllinois," says Ben.
Starting with Minimally Invasive Treatments
At OrthoIlliniois, Ben met with Richard Broderick, MD FACS FAANS, an ABNS Board certified Neurosurgeon specializing in minimally invasive surgical treatment of spinal disc diseases of the back and neck.
"The first course of action is always to consider the non operative treatment first. We started with physical therapy, which Ben participated in for three months," notes Dr. Broderick.
Unfortunately, there was little progress.
The next step was to try lumbar injections. A lumbar injection (also called an epidural steroid injection) is a minimally invasive procedure used to help relieve pain in the back, neck, arm or leg caused when spinal nerves become inflamed due to disc herniation or other conditions, like spinal stenosis.
Ben had three injections over the course of several months. While the first injections were somewhat helpful, eventually they became less effective and wore off quickly.
Ben and Dr. Broderick then discussed next steps, since Ben was scheduled to start his fall semester at the University of Wisconsin-Whitewater. Together, they decided to stay in close contact and put any further treatments on hold for the time being. If things worsened, Ben would contact Dr. Broderick.
Pain Worsens, Challenges Arise
Unfortunately, the pain did worsen.
"By the end of semester, it was so bad that I couldn't even drive. It continued to snowball, so I could barely walk or stand up," he says.
On December 14, 2018, Ben met with Dr. Broderick and both agreed surgery was needed. Ben was eager to move ahead as soon as possible.
However, there were two challenges to face: one was, Ben was going into finals week at college. Ben and Dr. Broderick discussed options, and Ben felt he could finish out the last week of school, with the help of his parents and girlfriend. Dr. Broderick was also able to prescribe a pain medication to help.
The other challenge was the timing of the surgery. Dr. Broderick's surgery schedule was booked six weeks out.
"I knew I couldn't wait that long," says Ben. "Fortunately, Dr. Broderick was able to make some adjustments and was able to get me in for surgery the day after my finals."
Ben's parents drove him back to school, and his girlfriend Allison—who was working night shifts in Madison, Wi., nearly an hour away—drove back and forth to help Ben so he could complete his finals.
To physically manage his pain while taking his tests, Ben got to the testing rooms early so he could get in a comfortable position. He discovered leaning far back in the chair helped, and he was able to complete his tests.
"But I didn't stand up at all when I was taking my finals, even to take a break or use the bathroom. I knew if I did the pain would return."
After he finished his last final, Ben's parents picked him up and packed his apartment and belongings for him, since he was unable to do it himself.
The next morning, Ben would have his surgery.
Surgery a Success
The day of surgery, Ben was in such pain that he needed to be wheeled into the hospital.
"Ben had a lumbar microdiscectomy as an outpatient," explains Dr. Broderick. "This operation is designed to remove the herniated fragment of the disc that is pinching the nerve, thus taking the pressure off of the nerve and initiating the nerve healing process. The procedure is done minimally invasively in about 60 minutes with a typical recovery of about 4-6 weeks."
The surgery went well.
"Soon after I woke up, I was able to sit, stand up and walk around. There was a little bit of residual pain from the procedure, but I knew that was temporary. I realized I'd be able to do all my normal everyday things again," says Ben.
That same day, Ben went home and relaxed. Dr. Broderick had given him some instructions, related to lifting and twisting, and asked him not to drive for two weeks. But after six weeks, all restrictions were completely lifted—and although Dr. Broderick indicated full healing would take about a year, Ben says he does not feel in any way that his life or options are limited.
Dr. Broderick also recommended that Ben work his way up to walking one mile a day.
"Once I could reach that with ease, I was told I could walk an unlimited amount as that was the best way to build up scar tissue where the operation had taken place," says Ben.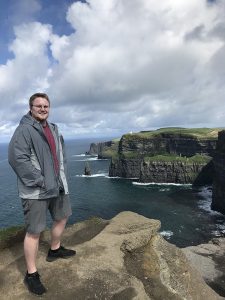 Focusing on the Future—Not Back Pain
Now Ben is able to focus on something other than back pain—his future and pursuing his career.
"I'm double majoring in Accounting and Finance," he says. "My goal is to get my CPA and work in public accounting, hopefully in auditing."
Any advice for people who might be dealing with back pain and not sure what they should do?
"Don't wait as long as I did to go to a doctor. Even if you think there is the slightest possibility there's a problem, go in and get it checked out—get ahead of the problem. Also, be sure to stick with any exercises your physical therapists or doctors give you and do them outside of just the physical therapy sessions."