Jodi Gilmour
Triathlete Undergoes MACI Procedure
Jodi's Story
Jodi Gilmour has been competing in triathlons for over 15 years, and continues to surprise herself as she takes on new challenges she never thought she would. her brother asked if she wanted to do a sprint triathlon in Chicago in the 90's. Jumping head-first into the world of triathlons, she borrowed a mountain bike and completed a 15 mile bike ride, a short swim and a 5k run. Jodi's mom had watched her and her brother compete in the race and wanted to join them, but she didn't think she could complete the running portion of the race. Determined to keep up with her kids, Jodi's mom started running in secret  – and after a while she was ready to start doing her own triathlons! Jodi started signing up with her mom, and multisport racing events became a cherished tradition that they loved to do together. Jodi fell in love with the triathlon community, met some of her lifelong best friends and became an ambassador for a team that produces women's triathlon clothing.
Jodi's Diagnosis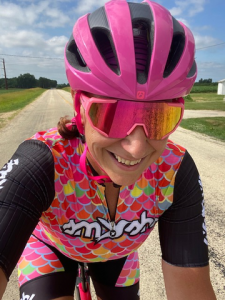 During an off season two years ago, Jodi decided to try trail running for the first time. All was well until one day, shortly after, she started to experience intense pain in her knee. With no recollection of any misstep or fall that could've caused a knee injury, Jodi decided to get it checked out at OrthoIllinois' walk-in injury clinic, Ortho Express. After some initial tests and an MRI, Jodi was referred to Dr. Van Thiel to discuss the injury. Dr. Van Thiel explained that the MRI showed there was cartilage damage and referred her to a physical therapist that would understand her goals and needs, as a runner himself. After being told that she had to wait a month before an appointment was available for her to begin treatment, Dr. Van Thiel stepped in and got her in to see the physical therapist that day.
"I know that wouldn't have happened if it wasn't for him," said Jodi.
Jodi was devastated with the news of her injury, especially since she had just purchased a brand new tri-bike for the upcoming season. With the pain still hindering her day-to-day activities, she wasn't able to attend the triathlons as a spectator, let alone to compete.
"I really felt like everyday was hard, it was really sad. I couldn't do the things I like to do. I like to be active and be outgoing and I couldn't do those things anymore," Jodi explained.
Dr. Van Thiel understood how important racing was to Jodi and wanted to get Jodi back on her feet so she could continue growing as an athlete. This is when Dr. Van Thiel talked to Jodi about a newer procedure that could change everything for her – MACI.
MACI (matrix-induced autologous chondrocyte implantation) is a procedure that repairs and restores damaged cartilage with healthy cartilage grown from a patient's own cells and has been shown to be very effective in relieving pain and restoring joint function.
Since Dr. Van Thiel had already retrieved a sample of Jodi's cartilage from a biopsy done earlier in her treatment, he thought she'd be a great candidate to undergo the procedure.
When presented with the idea of MACI, Jodi was a bit intimidated. She would need to put in a lot of physical therapy work towards strengthening her quad muscles and working on her overall strength so she could be in a good place for the surgery. Not only that, but Jodi felt that the recovery timeline was daunting, but took solace in Dr. Van Thiel's confidence that she would be back to competing in no time.
"At the time, I was overweight but he still took me seriously because it made my life better. When you're bigger, sometimes doctors don't take you seriously. He never questioned that I was good at triathlons and never thought I should be treated differently because I wasn't going to be at the top of the podium every time. I felt like he listened to me and understood how it was impacting me."
Luckily, Jodi handled the surgery like a pro!

"I had a great experience, I had little pain, which my understanding is that's not the experience everyone has.."
Jodi's Recovery
Post-surgery, as she was following up with Dr. Van Thiel, Jodi stayed in PT until the last day of the year and then did it on her own… Eventually she was back competing in triathlons and started exceeding her own expectations and goals as an athlete.
"I always said I would never do a marathon but my running was doing so well last year that once triathlon season was over I thought about running a marathon."
The following January she ran in her own self-supported marathon!
Back, and Better than Ever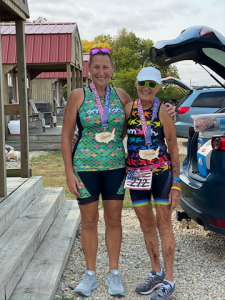 Currently, Jodi has no pain in her knee and is training for The Washington Island Ultra in July. Thanks to the support and guidance of Dr. Van Thiel, Jodi is continuing to set and achieve new goals for herself.
"I couldn't imagine being in this place 2 years ago when I first went to see him." Jodi continues, "I felt like he listened to me and understood how [my injury] was impacting me. The fact that he did what he could to get me back to doing what I love faster, that really meant a lot."