Occupational Health Center
Online Employer Service Authorization Form
Employers share a common goal: keeping their workers safe and productive.  But even in the safest environment injuries happen.   At those times, it is important to have a reliable medical partner that shares this goal.
OrthoIllinois' Fast Track for Worker's Compensation injures is a friendly, walk-in clinic for strains, sprains, fractures, cuts,  scrapes, and other work injuries.   Our Fast Track providers are the injury care experts, and are backed by the expertise of the highly-skilled sub-specialty orthopedic surgeons at OrthoIlliois to help get employees back to work quickly and safely.  And access to all this expertise is at the cost of an office visit.
Employees want the best treatment possible, and employers want a partner that understands their needs as an employer.
The OrthoIllinois Occupational Health Center is committed to offering superior care and thorough management of each case with a focused plan of treatment from early and accurate diagnosis until Maximal Medical Improvement (MMI) has been established to decrease lost workdays and increase productivity.
Walk-in Access
Medically Appropriate Restrictions
Prompt Delivery of Documentation
Dedicated Service and Support
Early, Accurate Diagnosis
Effective Treatment Plans
On-site Lab for Screening
Medications Available On-Site
To learn more about our work comp and employer services in the Rockford region call Bill Coller at 815-847-7044.
To learn more about our work comp and employer services in the Chicago northwest suburbs call Paul Strandquist at 815-847-7088.
---
OrthoIllinois recognized as a Top Employer Health Clinic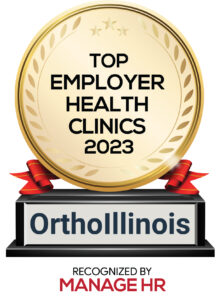 ---
Fast Track
Decrease Time Lost with Fast Track
Prompt walk-in access to save time away from the job with same-day appointments with an occupation medicine provider for all types of initial injury visits.  For more information about the Fast Track service in the Rockford region call Bill Coller at 815-847-7044; for the Chicago Northwest Suburbs call Paul Strandquist at 815-847-7088.
Location
5875 E. Riverside Blvd, Rockford, IL 61114
Dedicated Work Comp phone line:  815-298-2749
Monday – Friday 8:00 a.m. – 8:00 p.m.
Saturday – Sunday 8:00 a.m. – 2:00 p.m.
1550 N. Randall Road, Elgin, IL 60123
Monday – Friday 8:00 a.m. – 8:00 p.m.
Saturday – Sunday 8:00 a.m. -2:00 p.m.
650 S. Randall Road, Algonquin, IL 60102
Monday – Friday 8:00 a.m. – 8:00 p.m.
Saturday – Sunday 8:00 a.m. – 2:00 p.m.
Holiday Hours:
New Year's Day • Closed
Easter Sunday • Closed
Memorial Day • Closed
Independence Day • Closed
Labor Day • Closed
Thanksgiving Day • Closed
Friday after Thanksgiving • Closed
Christmas Eve • Close at Noon
Christmas Day • Closed
New Year's Day • Closed

---
Occupational / Employee Testing
Ortho Illinois's Occupational Health Center offers a comprehensive range of services to provide employers with the information needed to make sound decisions and maintain a workforce at medical and functional peak performance.
Employer Services Program
The Employer Services Program offers a variety of screening and testing to support pre-placement/post-offer, substance abuse, OSHA required and DOT compliance with fast and accurate results reporting.

WorkRight℠
WorkRight℠ offers a wide array of rehabilitation, work conditioning, and job-specific Functional Screens, including WorkSTEPS® Functional Employment Testing, to focus on preparing workers for return to work and preventing work-related injuries.

---
Consulting Services
Consulting Services That Fit Your Needs
Independent Medical Evaluations
IMEs provide an objective understanding of the impact of occupational health issues of an injury, illness, or condition

Disability Rating/Workers' Compensation
Injury prevention & training, Education, and Functional Job Descriptions to support a health work environment.

---
Download Forms
For Current Clients
For Everyone Else
---
Services Designed With Your Needs In Mind
For us, a correct diagnosis and prompt treatment are essential to preventing prolonged injury.
Walk-in access provides thorough and efficient management of each case.
Lost workdays and insurance premiums are reduced by using a focused treatment and recovery plan.
Re-check appointments are scheduled to ensure reduced wait times.
Located at the corner of Riverside Blvd and Mulford Rd, we offer medical care using the latest technology, provided by superior medical staff.
Our orthopedic specialists understand the needs of workers compensation patients, providing comprehensive care from initial visit to recovery.
The Occupational Health Center at OrthoIllinois also offers drug and alcohol screening services.