Capabilities and Services
Our Mission is to provide prompt, accurate diagnosis and treatment for all types of injuries related to numerous industries including healthcare facilities, food processing, municipalities, police and fire departments, manufacturing, transportation, waste management, service and retail.
---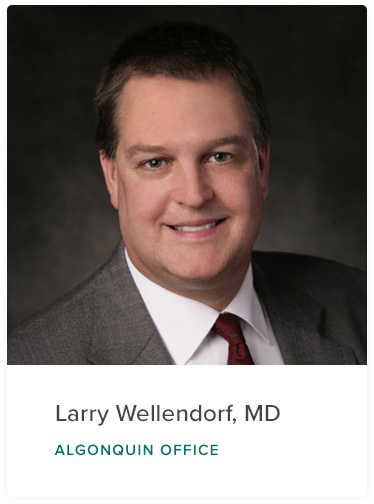 Dr. Larry Wellendorf began practicing family medicine in 1996 after completing his residency. Since that time he has accumulated abundant experience in emergency, occupational, immediate care, and family practice medicine for area health systems. Dr. Wellendorf's most recent positions prior to joining OrthoIllinois were held consecutively as Medical Director and Plant Physician for industrial and occupational medicine at the Chrysler Assembly Plant in Belvidere, Illinois and then as Medical Director, Immediate Care/Occupational and Employee Health Services/ Health Promotion and Wellness for Northwest Community Healthcare based in Arlington Heights, Illinois. As part of the team at OrthoIllinois' walk in Injury Express and Fast Track Occupational Health provider in Algonquin, Dr. Wellendorf applies his extensive experience to the diagnosis and conservative treatment of patients with new work and sport injuries, as well as those with longer-term injuries and pain that lingers.
---
Orthopedic care provided by highly trained and skilled sub-specialists
When an injury requires more advanced care, the sub-specialty skill of our fellowship-trained surgeons ensures the worker is receiving the highest standard of care available. OrthoIllinois offers highly skilled orthopedic and other musculoskeletal experts.
Areas of expertise
Shoulder
Hand, Wrist and Elbow
Hip and Knee Joint Replacement
Arthroscopic Hip and Knee
Spine
Trauma
Physical Medicine & Rehabilitation
Podiatric, Foot & Ankle Surgery
Rheumatology
---
All-encompassing employer services
What we offer you
Customer service and Support from a committed Work Comp Communication
Pre-employment screenings through our Employer Services Program
Highly trained Occupational and Physical Therapists available from five convenient locations.
Functional Capacity Evaluations
Job-specific Function Screens through WorkRightSM
On-site
Open, full-body MRI
Digital X-ray
Lab services
Cast lab
Durable Medical Equipment
Pharmacy