Taylor Bushman
Hip surgery helps softball player return to favorite sport
Taylor Bushman and softball go hand in hand, so when a hip tear threatened her participation in the sport, she turned to OrthoIllinois to get her back on the field.
The Seneca teenager started having pain in her right hip in early 2017, during her junior year at Seneca High School. She'd been playing softball as long as she could remember – starting with T-ball as a young child, then summer softball, and playing for teams in middle and high school. During the off-season, the pain wouldn't bother her as a much, but she'd really feel it after playing four or five games during tournaments.
That summer, she was playing in a tournament and said the pain got so bad, it was difficult to walk off the field. It was finally time to see a doctor, so she and her parents did some online research and landed on Dr. Geoffrey Van Thiel.
An uncertain future
Dr. Van Thiel diagnosed Taylor with a torn labrum. He described the labrum as a cushion that goes around the socket of the hip joint.
"A torn labrum can pinch and cause pain with flexion of the leg and/or range of motion in the hip," Dr. Van Thiel explained. "Repetitive use or one large injury can cause a tear of the labrum. Regardless of the cause, labral tears are painful and can affect activities such as walking, running, climbing stairs and sitting in the car."
He told Taylor she could have a cortisone shot to help with the pain, but that likely wouldn't get her through her senior softball season. They discussed surgery, and Taylor naturally had some concerns.
"I'm a left-handed batter who can hit the ball and run fast, so speed sets me apart. Another thing that made me really nervous was worrying I wasn't going to be as fast anymore," she recalled.
Taylor decided to have the hip surgery, a minimally invasive outpatient procedure in November 2017 during her senior year. Post-surgery, she was in a brace for about four weeks, then on crutches for a few weeks after that.
Overall, she said the surgery was a great experience. Her post-surgery discomfort was manageable. The surgery was on a Thursday and she was able to attend a college-prep class on that Friday.
Back on the field
Taylor started physical therapy a few days after surgery, and Dr. Van Thiel had her biking at home to help regain her strength.
"I was really determined to get back to it," she said. "I never skipped my exercises or anything."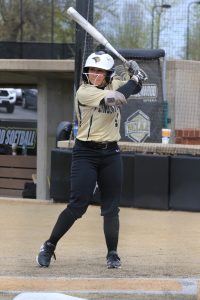 Dr. Van Thiel cleared Taylor for softball practice about three months after her surgery, which was just in time for the senior season. She hit the batting cages during the winter to rebuild her strength and was most nervous about movements that would affect her hip – running, sliding and diving for the ball.
"I was really nervous at first, but once I was out there, it felt really good and all the nerves went away," she said. "I was a little slower at first, which I expected. After I was cleared, I went to speed camp, worked on getting my form back. I was back to where I was completely before the surgery."
In fact, senior year was one for the record books. Among her achievements: She broke four school records (including career runs scored and career stolen bases), made all-conference, and was named the Morris Daily Herald Player of the Year and the Ottawa Times Co-Player of the Year. Taylor is attending Lindenwood University on a softball scholarship.
She makes sure to stretch out her hip before playing softball now. She loves playing softball at Lindenwood and is grateful to her medical team for helping her get there.
"I'm so thankful I had the help of Dr. Van Thiel and OrthoIllinois," Taylor said.
Dr. Van Thiel said concerns about return to play among athletes is common, but the right surgery and good rehab can – in some cases – make them even better because their pain is gone.
"Taylor was a high-level athlete going into surgery, and this helped with her recovery," he noted. "She committed to the process and worked hard."