Ken Malchow
After 20 years of managing often debilitating neck and back pain, Ken Malchow returned to the gym and appreciating the little joys of everyday activities with help from OrthoIllinois.
The 54-year-old Lake in the Hills resident sought treatment through the years from chiropractors, but the pain relief was always temporary. He came to OrthoIllinois in fall 2020 suffering from extreme pain in his upper right shoulder that was shooting up through his neck.
"I could not move my head left to right, up or down," he recalled. "I couldn't lift my head off the pillow or bend over. My movement was so restricted, and I was crabby all the time because of the level of pain I was in."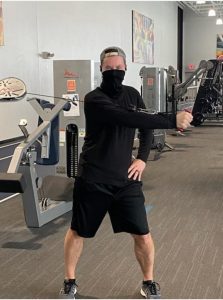 His experience with the team at the OrthoIllinois Algonquin Clinic and Dr. Christopher Faubel, a board-certified physician who specializes in physical medicine and rehabilitation, was promising from the start.
"From the moment I walked in the door, I felt like I was the only person being treated – that's the level of care you're given," he said. "Then the speed at which things are done is phenomenal. I explained I had a tight pain in my shoulder that was shooting up my neck, and they started me off with X-rays right there. I didn't have to wait a week for another appointment. A few minutes later, they came right back to explain what the X-rays showed."
Dr. Faubel said Ken's presentation on that first visit was pretty clear from the beginning that his pain was related to a muscular problem. And because he had such reduced range of motion to his cervical spine, it was likely significant arthritis – the regular wear and tear in the tiny joints in our neck we all get as we age. An X-ray confirmed moderate to severe arthritis at multiple levels.
When Ken heard that treatment was possible, he had a "sense of hope again" of being able to move his neck.
"Dr. Faubel was so down to earth, and his team of people were just amazing," he explained.
Ken set up appointments for physical therapy – for about two weeks, three times a week – that same day. The therapy team was also efficient, caring, and effective, he noted.
"They would keep checking on my pain level: It went from a 10 to a 7, then to about a 5 or 6," he said. "The PT staff was professional and courteous from beginning to end – part of the greatness that OrthoIllinois is."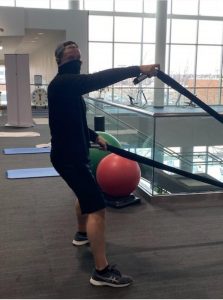 After a few weeks of physical therapy, Ken could move his head again but was still having some pain. Dr. Faubel moved forward with nonsurgical treatment, recommending a C5/C6 facet joint steroid injection that was performed in the office fluoroscopy suite using X-ray guidance to improve accuracy and safety.
The steroid injection knocked Ken's pain back even further, allowing him to return to his weekly gym routine and running – activities he enjoyed that he'd been sidelined from because of pain.
"About two weeks after the injection, he returned for a clinic visit and reported 80% improvement in pain," Dr. Faubel said. "He was thrilled with the relief he received. I advised him to continue his home exercise program the physical therapists taught him. And although the arthritis may eventually cause the pain to return one day, we at least know a safe, simple office-based procedure can help considerably."
Ken said his condition is much more manageable and he knows he can always return to OrthoIllinois and Dr. Faubel for continued care.
"It's the first place I'd go again," he said.