John Moore, PA-C
Physician Assistant and Certified Athletic Trainer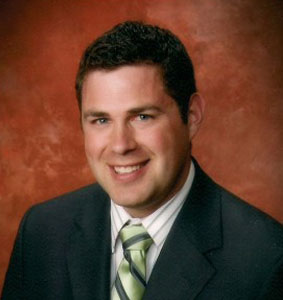 I always had interests in the human body and healthcare growing up. I also have passions for athletics and working with my hands. As I started my professional path, I worked hard at determining how to integrate those interests in my education and career.  Through my time spent in high school and college, I had the privilege and opportunity of being exposed to many different roles within the healthcare team and the affects that those roles have in patients' lives.  My professors, the professionals I was able to shadow and work with, as well as my family and friends helped me to realize my path to becoming a physician assistant. The more exposure I had, orthopedics was a natural and obvious fit for me.  The ability to primarily work with children and teenagers makes every day interesting and enjoyable.  I can't imagine doing anything else!
I graduated from PA school in 2009 and have been a physician assistant with OrthoIllinois ever since.  My primary role from the beginning of my career has been working on our pediatric team. Our practice is focused on providing specialized health care to children and teens who have orthopedic conditions from traumatic injuries, sports injuries, as well as congenital and developmental conditions. I have a special interest in sports injuries and pediatric fracture care. With my background, I also have multiple experiences helping with all our other sub-specialties. The opportunity to work alongside so many high level, sub-specialized providers makes this practice a special place to work.
I feel that communication, respect, and high-quality care should be provided to all our patients. I strive to make sure that our patients and their families understand their injuries as well as the available treatment recommendations and, together, we can make a collaborative plan of care. I try to always make sure our patients and families are comfortable in an often-times stressful situation and environment.
Outside of work, I enjoy spending time with my wife and 3 growing boys. We stay busy with school activities, sports, and travel.  I love to cook, golf, and enjoy cheering on the Iowa Hawkeyes!
Assists
Education