Andrea Dobis
Passion for dogs inspires patient's bilateral knee surgery
Andrea Dobis had a roller coaster of a year in 2017 that included personal loss but also the much-needed relief of the severe arthritis pain she was experiencing in her knees.
Wear and tear through the years led Andrea to finally seek help for her osteoarthritis in 2015. Doctors were initially resistant to suggest surgery because she was morbidly obese. Pain injections helped somewhat but didn't provide lasting relief.
"I have a high pain tolerance and I'm stubborn," she said. "My legs were so bowed, which caused me to be a few inches shorter. I was trying to hide the pain, but my family and friends could see it in my face."
Andrea adopted a low-carb lifestyle and lost a staggering 130 pounds in about 15 months. In 2017, she went to see OrthoIllinois' Dr. Frank Bohnenkamp, who suggested bilateral knee replacement surgery, a process that replaces both knees at the same time. Andrea was understandably nervous about taking such a big step even though she had difficulty walking because of the arthritis. She initially opted for continuing injections to help with the pain while she contemplated the best time to have the surgeries.
But then her beloved 8-month-old bulldog, Otis, died unexpectedly. She had already experienced the death of her mother a few months earlier. So she decided to have the surgeries to take her mind off the grief she felt from such loss.
"I chose to channel all that grief into determination to get through the surgeries and work as hard as was necessary," she said. "I did whatever I was told to make my new knees work optimally. It was the best decision (to do both knees)," she said. "The reason Dr. Bohnenkamp suggested the bilateral surgery was because both knees were so weak. Neither would have been strong enough if I'd done one and had to wait until it healed."
Dr. Bohnenkamp noted that bilateral knee replacement patients need to be healthy and motivated, which Andrea was.
"Recovery can take a bit longer because both knees are replaced at the same time," he said. "Typically, arthritis is equally bad on each side. The patient has to be motivated to do the rehab and work through the discomfort. Range of motion is important to get right away and maintain through recovery."
Rehabilitation from the surgery was, in fact, intense. After a few weeks of physical therapy, the therapists were having difficulty getting Andrea's knees to bend. She went back to Dr. Bohnenkamp for a second procedure – a manipulation – which Andrea had been told might be needed.
"Manipulations are not uncommon after bilateral knee replacements or even single knee replacements," he said. "Sometimes scar tissue lays down quicker than patients can get back their motion. The manipulation is like six weeks of therapy in five minutes. After the manipulation, her motion greatly improved and she continued to improve with physical therapy."
After the second procedure, Andrea also wore two different types of splints that ran from the top of legs to the bottom of her shins. She wore each set for 30 minutes daily for a few weeks, which helped her gain even more motion. Andrea was still doing physical therapy when she received an email from a rescue early this year about young English bulldog available for adoption. His name was Rocky, and the attraction was instant.
"I knew he was meant for me when I saw his picture," she recalled. "I was still walking heavily with a cane and doing PT, but I knew he was my dog." Andrea described the surgeries and getting a new dog as a "Godsend."

"Dr. Bohnenkamp promised I'd be able to walk again, and each day keeps getting better and better," she said.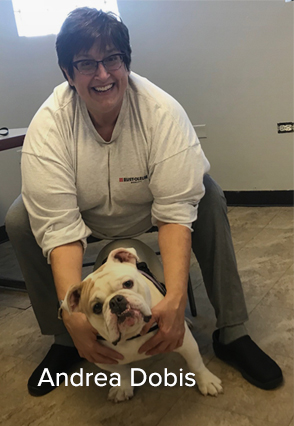 She was able to go shopping with her girlfriends over the summer, the first time in a decade she didn't need to wait in the car or sit on a bench because of the pain. Andrea said even Dr. Bohnenkamp and his staff noticed how well she was bending her knees in a photo with Rocky she brought to the office to show him off.
Andrea and Rocky have been happily walking around the neighborhood for months now.