Chris Kelly
Shoulder replacement addresses sports injury for Crystal Lake man
Trouble with his right shoulder had interfered with Chris Kelly's day-to-day routines until a shoulder replacement allowed him to be comfortably active again.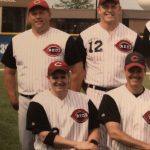 Kelly, 55, played football and baseball throughout high school and college, and for a handful of years after that. About seven years ago while pitching during a men's baseball league game, he heard his shoulder pop.
"At the time, I didn't know what it was. But I had no strength in that arm. The next pitch didn't make it to the plate," he recalled. "I was able to hit and stayed in the game, which is weird because I blew out my right knee two innings later."
It just so happened it was the last game of the year. He sought treatment for the knee injury but waited about five years later to address what turned out to be a tear in his right shoulder.
He connected with OrthoIllinois' Dr. Rolando Izquierdo, who recommended a full replacement – treatment that might have seemed like a big step but was just fine with Kelly.
"He diagnosed it right and went with the right solution," he said. "It's just amazing how well the surgery went."
Kelly underwent outpatient total shoulder arthroplasty, or minimally invasive shoulder surgery, in June 2019 and said Izquierdo found previous damage caused by overuse and arthritis. After surgery, Kelly did physical therapy at the OrthoIllinois Algonquin Clinic where he had "constant contact" with the staff.
"They did a phenomenal job on my rehab," he noted. "There's such good attention to detail when they work with you, and they give you at-home exercises and they're constantly making sure you're doing what you're supposed to be doing.

"The whole experience exceeded my expectations."
Before surgery, reaching for a clothes hanger would cause shooting pain through his arm. Now, the range in his right shoulder is better than before surgery. He said everyone from Dr. Izquierdo to the PT team was flexible in directing treatment around his work and family schedules, and his range "came back faster than usual because they worked me as hard as they needed to, and I tried and push harder."
"The pain is completely gone – the full replacement was the way to go," he said.