Janell Jochim
From Back Surgery to Power Walking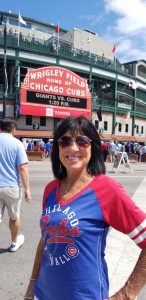 Janell Jochim has always led an active life. Born in Nebraska, she spent her childhood helping with chores on her family's ranch. Always an avid runner, even her 60s she is still going strong, participating in two half marathons at ages 60 and 61.
Fast forward to today. Janell, age 69, and her husband Paul, a former department manager for JCPenney, are enjoying retirement in an active adult community in Pingree Grove.  They've made Illinois their home together for more than 30 years.
Much of Janell's adult life and that of her husband has also been spent caring for their now 42-year-old daughter, Jill, who lost her ability to use her hands purposely and talk at the age of two due to a rare condition known as Rett syndrome. While her younger years were spent at home, at age 30, Jill moved to a nearby group home and today she comes home on the weekends.
"I Felt a Sharp Pain in My Back"
In November 2017, Jill broke her ankle. Janell and Paul were taking her to the doctor.
"I was helping her get into the car—then I felt a sharp pain in my back," says Janell. "I knew right then something had happened. But I didn't go to a doctor until about a year later."
Janell managed the pain on her own, however it got worse, and by April 2018 she decided she needed help. She was referred to back specialist and orthopedic surgeon Tom Stanley, M.D.
Injections Help for a While
X-rays showed Janell had three herniated discs, and Dr. Stanley recommended pain injections. She received several injections over the course of the following year, but they became less effective, even with increased dosages. When she got her last injection, in April 2019, Janell felt it barely helped at all.
"It got to the point where I could hardly walk. My whole left leg felt numb and tingly. I also had a cold feeling on my right ankle," Janell explains. "I tried some exercise and physical therapy, but that didn't help either."
Dr. Stanley ordered an MRI and after viewing the results, he recommended surgery.
"Surgery is a great option when a person has severe spinal stenosis," explains Dr. Stanley.  "As the arthritis builds in the spine, it crowds the nerves and smashes them all together.  Making a window in the bone opens up the space and takes the pressure off."
Although Janell was almost ready to move forward, she describes herself as "not medically inclined" so wanted to talk to her sister, who worked as an orthopedic nurse, about the surgery.
"I was so impressed—Dr. Stanley's PA, Christin, was willing to talk to my sister in Dallas and explain what was happening," says Janell. "My sister agreed that it was the best thing to do."
In at 7:00, Home By 12:30
On June 5, 2019, Dr. Stanley performed the surgery.
"I went in at 7:00 a.m., was home by 12:30 and slept the rest of that day," says Janell. "I didn't feel any pain, just a little soreness where the incision was. My leg felt fine, too."
The next day, Janell says she walked around the house with a walker. The day after, she didn't need the walker. Dr. Stanley also had prescribed a back brace for Janell that she says was a tremendous help. Neighbors and friends stopped by with meals and words of encouragement.
Six weeks later, Janell no longer wears the back brace and feels like she'll be able to gradually return to her habit of power walking three miles a day.
"Others had told me to see a pain doctor and not do surgery. But Dr. Stanley said that would kind of be like putting a band-aid on the problem," says Janell. "I'm really glad he challenged me. It is all almost too good to believe."