Keith Brandel
Police officer returns to force after crossbow accident injures hand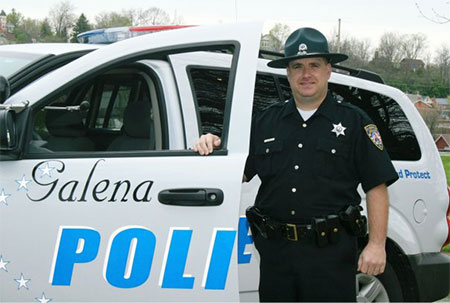 A hunting injury nearly ended Keith Brandel's career. Thanks to Ortho Illinois, emergency hand surgery, and a hard-fought recovery process, he was able to return back to the world of public safety.
Keith, who lives in the northwest Illinois community of Elizabeth, was with a friend in November 2017 hunting deer with a new crossbow. He had just reloaded the crossbow, placed it on the ground, and went to slide it out of the way when it misfired and shot straight through his right hand.
"I didn't feel anything," the 48-year-old recalled. "I heard the pop of the crossbow band go off and thought, 'Oh my God.'"
His friend called 911, and they took off, leaving their gear and supplies in the woods. As a police officer of 24 years, Keith knew it would be easier for emergency responders to find him if he was closer to the road. He also had worked as an emergency medical technician (EMT) for years and knew to wrap his coat and his friend's belt around his hand to act as an emergency tourniquet.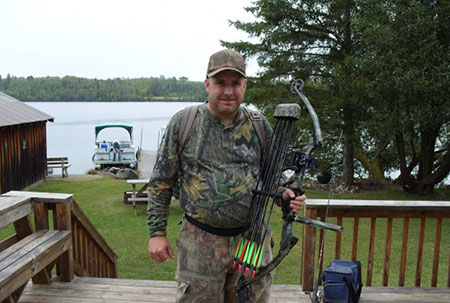 The walk back to the road was about a quarter of a mile, and by the time Keith sat down again, he started feeling dizzy – his adrenaline was wearing off and he was weak from blood loss. A few minutes later, he was in an ambulance on his way to FHN Memorial Hospital in Freeport.
Keith was in critical condition. His veins had started to collapse because of the blood loss, and his blood pressure had dropped to 60/40 mmHg (normal is 120/80). It was a gloomy day, so a helicopter flight transfer was a no-go. He was transferred by ambulance to SwedishAmerican Hospital, where he was treated by Ortho Illinois physicians Dr. Scott Ferry and Dr. Brian Foster.
Dr. Ferry was on call and met Keith in the emergency room. Dr. Foster, who specializes in surgery for the hand, wrist and elbow, was brought in for assistance.
"When Dr. Ferry told me that (Keith) did not have good blood flow through his thumb, I knew the injury was severe," Dr. Foster said. "His injury is what you could call a game-changer."
Keith is right-hand dominant, so the use of his thumb was critical to his job as a police officer. Dr. Foster recalled thinking,
"My impression was that we had to repair everything that was damaged, but that restoring blood flow would be paramount because he would lose his thumb and hand function if blood flow was not restored quickly."
Surgery to repair the injury was a complex process and took nearly eight hours. The doctors fixed his fractured bones to give them a base to reconstruct his index finger and thumb. Then, they repaired his tendons. The crossbow had destroyed a large portion of the arteries to the thumb, so Dr. Foster had to harvest a healthy artery from Keith's index finger that could rotate over to the thumb to restore blood flow.
"Each finger has two arteries that supply it, and one of the index finger's arteries was intact, but the other was damaged," Dr. Foster noted. "As long as you have one good working artery, usually the finger will survive."
Microsurgery was used to transfer the index finger artery to the thumb, restoring blood flow to the thumb. The surgeons then repaired Keith's nerves with microsurgery and then closed all of the skin wounds.
Keith spent several days in the hospital to monitor the blood flow in his hand. Dr. Foster told Keith and his wife, Tina, that his hand would never be the same as it was prior to the injury. The goal was to keep the thumb, but there was a chance that he could lose it and lose function of his hand.
"At that point, I was happy I was alive. But I was thinking about what I could do for a career," Keith said. "It was a slow recovery, but it was just unbelievable how supportive everyone was – from the ER staff to the intensive care staff to Dr. Foster and everyone at Ortho Illinois. I can't imagine them being any better."

Recovery was "long, tough and discouraging, particularly because I'm not a patient person," Keith recalled. Because the injury was so severe, the hand needed to heal for several weeks before he could start physical therapy. After about a month, the pins and bracing were removed and replaced with another cast.

"You don't realize how much you use your strong hand until you can't use it," he said. "Showering and getting dressed were nearly impossible."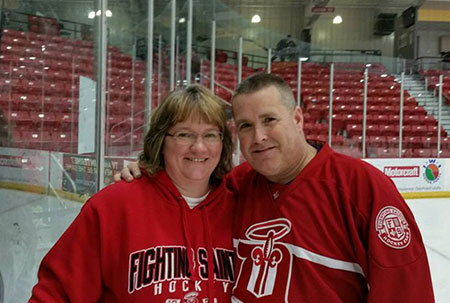 Keith did physical therapy for his hand for three days a week for about three months. The therapy focused initially on massaging the swelling and just manipulating the fingers; then, it progressed to strengthening and regaining normal abilities.
He credited Tina for helping push him on his bad days and keeping him focused, so much so that he was able to return to full duty as a police officer in May 2018.
"I can't completely describe how amazing Keith did with his therapy, recovery and healing," Dr. Foster said. "He was diligent, motivated and outperformed expectations that I had. He returned to function earlier than I had imagined, and I was very impressed (but not surprised!) with his commitment."
Keith has since retired the crossbow, but he does have a souvenir from the accident. The landowner where Keith and his friend were hunting that November day kept the arrow and returned it to him.