Brian Foster, MD
My interest in medicine began at an early age when my dad, as a busy general surgeon, often took me to work with him while making his rounds on the weekend and on call overnight. I loved everything about the hospital: from the hustle and bustle of a level one trauma center, to how my dad put people at ease with his unparalleled bedside manner. Just as influential was what I saw outside of the hospital: appreciative patients thanking my dad for helping them through times when they were sick or injured and most vulnerable. Even as a child, I knew I wanted to make this same difference in peoples' lives.
I focused my educational career around medicine and even spent time as a nursing assistant in the intensive care unit during college, where I gained valuable insight into the team effort required for patient care.
After completing my medical degree I was exposed to many areas of orthopedic surgery during my residency. While treating an abundance of hand injuries in both the emergency and operating room I began to realize that though they are just a small part of the body, hands effect daily function in a significant way. Consequently, repair of hand injuries and deformities can dramatically improve a patient's life.
My decision to pursue hand surgery as a career was further strengthened by a medical mission trip to Vietnam. We operated on children with a variety of hand problems, from syndactyly in Apert Syndrome to ulnar nerve deficiency resulting from trauma. By restoring form and function to these children's hands, we added a new dimension to their lives.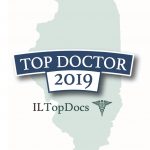 My approach to patient care revolves around communication. As a hand and upper extremity surgeon, my job is to evaluate and treat disorders including, but not limited to, traumatic, degenerative, congenital, and rheumatologic problems. A vital part of my job however, is to educate patients and their families of their diagnosis, treatment options, and expected outcomes. To do this well, I must learn what makes a patient unique.
I am looking forward to meeting you and helping guide you through the best course of management for your condition. Please let me know if there is anything I can do to further improve your experience at OrthoIllinois. My goal is to provide you the best medical care available.
| | |
| --- | --- |
| BACHELOR'S DEGREE | University of Richmond |
| MEDICAL DEGREE | Wayne State University School of Medicine |
| RESIDENCY | Loyola University Medical Center Department of Orthopaedic Surgery and Rehabilitation |
| FELLOWSHIP | Harvard Hand and Upper Extremity, Brigham and Women's Hospital / Children's Hospital |
Insurance Questions?
Dr. Foster and Ortho Illinois accept multiple insurance providers. To see a list of insurances accepted click here. Contact your insurance carrier for you specific plan details.
Memberships
Board-certified by the American Board of Orthopaedic Surgery
Board-certified Subspecialty in Surgery of the Hand
Assistant Professor, University of Illinois College of Medicine at Rockford
American Association of Orthopaedic Surgeons (AAOS)
Team Physician for Rockford IceHogs
Hospital Affiliations
OSF Saint Anthony Medical Center
Advocate Sherman Hospital
Mercy Rockford Hospital
Ortho Illinois Surgery Center
Rockford Ambulatory Surgery Center
Van Matre HealthSouth Rehabilitation Hospital
Reviews
---
Posted:
2018-12-15
It was nice to hear options and to be included in the discussion on the advantages of both options.
---
Posted:
2018-12-07
Foster is a fantastic doctor. Great bedside manner.
---
Posted:
2018-10-30
Dr Foster was very easy to talk to. He explained things well and told me exactly what to expect.
---
Posted:
2018-10-26
Dr. Foster was great, he explained everything that he was going to do and what I could expect.
---
Posted:
2018-10-25
Dr Foster has a very pleasant way about himself.
---
Posted:
2018-10-25
Dr. Foster was both friendly and professional. His exam was thorough. He did an excellent job of explaining my condition and possible treatment options. He was patient and open to what I had to say and answered my questions fully.
---
Posted:
2018-09-29
Dr Foster is awesome!!
---
Posted:
2018-08-30
Dr. Foster was very thorough and skilled. The highest of recommendation can be given to him.
---
Posted:
2018-08-23
Dr. Foster was informative and answered all my questions.
---
Posted:
2018-08-23
Dr. Foster is a magnificent physician and human being. Beyond his surgical skills, he has a tremendous empathy and concern with/for his patients. At least in my experience!
---
Posted:
2018-08-20
I have only been in the area for 5 years and several family members have been here and all are very satisfied
---
Posted:
2018-08-08
Dr. Foster was very thorough and I really appreciated how knowledgeable he is. I really felt that I was in good hands, and that he would find the best way to help me.
---
Posted:
2018-08-05
Dr. Foster listened to me concerning my son's broken wrist when I had many, many questions! I appreciated his patience with us...
---
Posted:
2018-07-26
I liked the "checklist" given to me prior to surgery. Everything I needed to do pre-surgery and post-surgery was written out so there was no misunderstanding of what to do and expect.
---
Posted:
2018-07-25
Dr Foster is great.
---
Posted:
2018-07-21
Very good experience.
---
Posted:
2018-07-17
Outstanding
---