John Bottros, MD, FAAOS
Growing up in a family of physicians has instilled within me that a career in medicine is a way of life, not just a job. The path to a medical career became even more focused through my interest in the biomechanics of the human body and in particular, joint function and movement. That intrigue led me to pursue advanced orthopedic training as part of my surgical residency at the Cleveland Clinic Foundation after obtaining my medical degree at the State University of New York Upstate Medical University.
While in residency, I had the unique opportunity to concentrate my interests in adult reconstructive surgery by participating in a research year dedicated solely to joint surgery and studying the mechanics of the hip. As a result, I believe our research has contributed new knowledge to the field of orthopedics that could ultimately lead to clinical changes in the management of hip conditions.
Before establishing my own practice, I elected to pursue a fellowship in adult reconstructive orthopedic surgery at Rush University Medical Center. A fellowship is the highest level of training an orthopedic surgeon can obtain, offering the opportunity to spend an additional year honing surgical skills and technique in a specific sub-specialty of orthopedics under the guidance of some of the country's top surgeons in the field.
My practice at OrthoIllinois specializes in adult reconstructive surgery of the knee and hip, with a special interest in complex primary and revision total joint replacement, rapid recovery and perioperative pain management after joint replacement.  I am also trained in and have performed a significant number of out-patient total joint procedures that have allowed my patients to have a hip or knee replaced and recover from the convenience of their own home that same day.
I remain actively involved in continuing education and orthopedic research and have been invited to present to peers at various lectures, as well as authored numerous publications.
In addition to my extensive medical commitments, I enjoy traveling abroad, scuba diving, rock climbing, mountain biking, hiking, CrossFit, playing soccer and participating in sprint triathlons.
I am looking forward to meeting you. Please let me know if there is anything I can do to further improve your experience at OrthoIllinois. My goal is to provide you the best medical care available.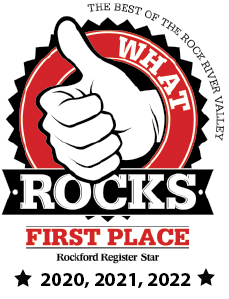 Selected as First Place "Best Orthopedic Surgeon" in 2020, 2021, and 2022.
Selected as a 2019 top three finalist "Best Orthopedic Surgeon"