Direct Anterior Approach Hip
Faster Recovery, Improved Mobility Benefits of Tissue-Sparing Hip Replacement Procedure available at OrthoIllinois!
Direct Anterior Approach is an alternative to conventional total hip replacement that offers distinct advantages for patients.  OrthoIllinois joint replacement specialists Mark Barba, MD, John Bottros, MD,  John Daniels, MD,  Frank Bohnenkamp, MD and Scott Mox, MD have each undergone the advanced training to perform the Anterior Approach procedure.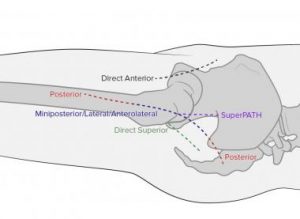 The advantages of Anterior Approach can be attributed to the proven technique that allows surgeons to approach the hip between muscles without detaching them from either the pelvis or femur, as is customary in conventional total hip arthroplasty (THA).  A special operating table uniquely designed for this procedure positions the patient on his or her back, enabling the surgeon to make a small incision on the front of the hip and gain access to the joint through a natural interval between muscles. In addition, the hip is an anterior joint, meaning it is closer to access from the front of the body.  For qualifying patients, Direct Anterior Approach Hip Replacement can be performed as an outpatient procedure at OrthoIllinois Surgery Center.
Because the surgeon is working to replace the hip joint without disturbing muscle and tissue, they do not require a healing process to recover from the surgical trauma.  In conventional THA, a larger incision is utilized through either the side or back of the hip and requires detachment of muscle and tissue from bone.
Due to the location of the incision and the tissue-sparing technique, the benefits are realized almost immediately in post-surgical mobility and flexion.  With conventional THA, patients are given restricted limitations on hip motion and flexing of the hip to 60-90 degrees for 6-8 weeks, complicating normal daily activities.  In contrast, Anterior Approach patients are allowed to bend the hip freely and bear full weight as soon as comfortable and as a result resume normal activities faster.
Shorter or no hospital stay
Smaller incision
Faster Recovery
Reduced pain
Reduced risk of dislocation
More rapid return to normal activities