Gary Ross
Back to active life:  Knee replacement a success for German Valley man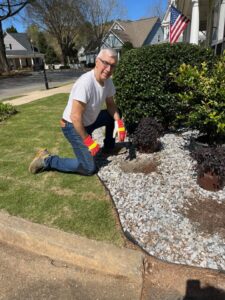 As a former athlete and retired farmer, Gary Ross was used to staying active and moving his body until knee problems started slowing him down.
The 76-year-old German Valley resident noticed considerable swelling in his left knee caused by severe arthritis that left the knee bone on bone. The swelling eventually affected his everyday movement, causing him to favor his right side.
He dealt with the issues for about two years before reaching out to OrthoIllinois for help. Ross had his right knee replaced years earlier at another provider but had heard great things from friends about OrthoIllinois and specifically Dr. John Bottros.
Ross was impressed by Dr. Bottros' thoroughness and expertise in treating his condition and the symptoms he was experiencing.
"I'm a busy guy and like to keep moving – and he could see that," Ross said. "I liked that he could tell I was an active person and was anxious to get back to myself."
Ross is also a truck driver and felt a little like fate intervened because Dr. Bottros has a picture of a man getting in and out of a semi in his office.
"I wondered if he was saying driving a truck can be strenuous to your health," Ross joked.
After that initial visit, Ross tried conservative, nonsurgical treatment first. He had fluid drawn out from the knee twice with little relief. He also did physical therapy, which he felt helped him build some strength before scheduling surgery.
"I played basketball until I was probably 60 or 65 – I could even keep up with the kids!" Ross recalled. "I knew I would probably need a knee replacement, and I liked the idea of a more personalized approach, which is what OrthoIllinois is known for."
Dr. Bottros did a total knee replacement for Ross in 2021. He prescribed pain medication and ibuprofen after the surgery but by the third day post-surgery, Ross had forgotten to take a pain pill and realized he didn't need it.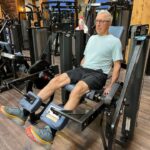 He also only ended up needing three PT sessions for rehabilitation after surgery. Driving trucks and doing landscaping work requires him to bend and kneel a lot, and Ross said the knee feels fully improved.
"I feel great. I would always get so tired before and everything took so much more effort. But I don't experience that anymore," he shared.
Ross recently had a two-year follow-up appointment at OrthoIllinois and was reminded of Dr. Bottros' thoroughness:
"He wanted to see me and check in on how I was doing, and I just think that is so wonderful."