Brian Bear, MD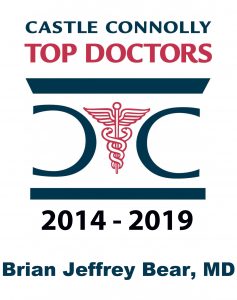 I would like to take this opportunity to tell you more about myself and my experience in health care. Originally from Winnetka, Illinois, I attended Northwestern University graduating in 1987, cum laude, president of Mortar Board Senior Honor Society and a member of Phi Betta Kappa. I continued my studies at Northwestern University School of Medicine, receiving my medical degree in 1991 as a member of Alpha Omega Alpha honor society. Following my graduation, I pursued advanced orthopedic training at Cornell Hospital for Special Surgery, which is ranked as the top orthopedic hospital in the United States. In addition, I completed a specialized training fellowship program in elbow and hand surgery at the Mayo Clinic.
My practice is focused on shoulder, elbow, hand, microvascular, traumatic, and reconstructive surgery. It is my mission to provide you compassionate care with expertise comparable to any major university center. I am humbled by my inclusion in two prestigious quality health care listings: as a Castle Connolly Regional Top Doctor, and the Best DoctorsR list. Earning a place on either list is a result of being nominated by other physicians and a thorough review by the listing organization into my background, professional achievements, patient satisfaction and positive treatment record. Inclusion on the Best Doctor list is a direct result of other doctors selecting me as the person they would choose to treat themselves or a family member. These are honors I take very seriously and I am committed to maintaining the high standards they represent with all my patients.
I am actively involved in continuing education, have given numerous lectures, and published many orthopedic articles. As Clinical Associate Professor of Surgery at the University of Illinois College of Medicine, I have been awarded the Golden Apple teaching award and the Excellence in Teaching award. I am a reviewer for the acclaimed Journal of Shoulder and Elbow Surgery and currently serve as a faculty member at the Orthopedic Learning Center, where I teach other surgeons the latest techniques of hand, elbow and shoulder surgery. I hold Associate and Assistant Clinical Professor of Orthopedic Surgery positions respectively at University of Illinois College of Medicine in Rockford and Rush University Medical Center in Chicago where I help train medical students, family practice residents, and orthopedic surgery residents.
Please let me know if there is anything I can do to further improve your experience at OrthoIllinois. My goal is to provide the best medical care available to help you return to an active and pain-free lifestyle.
Sincerely, Brian Bear, M.D.
| | |
| --- | --- |
| BACHELOR'S DEGREE | Northwestern University |
| MEDICAL DEGREE | Northwestern University |
| RESIDENCY | Cornell Hospital for Special Surgery |
| FELLOWSHIP | Shoulder, Elbow, Hand, and Microvascular Surgery Fellowship, Mayo Clinic |
Insurance Questions?
Dr. Bear and Ortho Illinois accept multiple insurance providers. To see a list of insurances accepted click here. Contact your insurance carrier for you specific plan details.
Memberships
Board certified by the American Board of Orthopaedic Surgery
Clinical Associate Professor, University of Illinois School of Medicine, Rockford
Assistant Clinical Professor of Orthopaedic Surgery – Rush University Medical Center
Review editor for the Journal of Shoulder and Elbow Surgery
American Academy of Orthopaedic Surgeons
American Society for Surgery of the Hand
Illinois Assoc. of Orthopaedic Surgeons
Mid-America Orthopaedic Association
Chicago Hand Society
Winnebago County Medical Society
Hospital Affiliations
Ortho Illinois Surgery Center
Rockford Ambulatory Surgery Center
Mercy Rockford Hospital
Van Matre HealthSouth Rehabilitation Hospital
Reviews
---
Posted:
2019-02-14
I appreciated the diagrams and the visuals that Dr. Bear used to describe his points.
---
Posted:
2019-01-19
I had questions about an upcoming surgery and he actually drew pictures to explain it to me better
---
Posted:
2019-01-19
Dr. Bear listened to my concerns and when I asked about surgery, drew me a picture and explained the whole thing.. felt a lot better.
---
Posted:
2018-12-28
Dr. Bear gives great details and really cares about his patients. Very good at giving all the information I needed.
---
Posted:
2018-12-15
My caregiver was very kind and helpful in explaining what was wrong.
---
Posted:
2018-12-07
Excellent concern and help.
---
Posted:
2018-11-02
Provider was very knowledgeable and thorough.
---
Posted:
2018-10-30
AWESOME , everyone , everything.
---
Posted:
2018-10-30
Had a great experience will suggest you to anyone
---
Posted:
2018-10-30
Dr. Bear is great. Dr. Bear's nurse was also super knowledgeable.
---
Posted:
2018-10-25
Dr Brian Bear is very kind & compassionate. He listens & understands your needs. He answers your questions so you understand what he is saying to you.
---
Posted:
2018-10-25
Took the time to explain the entire process.
---
Posted:
2018-10-10
I would and have recommended Dr. Bear to others. I have the utmost confidence in the Dr. Bear and his team's care.
---
Posted:
2018-10-03
Will definitely recommend him.
---
Posted:
2018-09-29
Dr Bear was excellent. Surgery was scheduled same day as appointment
---
Posted:
2018-09-29
Superb care. Very caring and thorough.
---
Posted:
2018-09-28
I will always use Dr Bear because he always makes it clear as to the conditions and treatment!
---
Posted:
2018-08-24
Wonderful treatment and great success in surgical procedure. Thank You Dr. Bear!!
---
Posted:
2018-08-08
Very good care by all concerned.
---
Posted:
2018-08-03
My husband went to doctor Bear and really liked him and the care he received so I didn't think twice about making my appointment. He is very caring and explained my treatment very well.
---