Helping girls with Scoliosis
Julia Dayton, a sophomore at Hononegah High School, founded the northern Illinois chapter of Curvy Girls Scoliosis (Curvy Girls) after she was diagnosed in November 2009 at the age of eight with Scoliosis.
"Scoliosis has taught me not to run away from problems in my life. I have learned to stand up to things that are scary or hard to understand. Guess what? They all get easier the more you know!  It's so awesome to know I am not alone!"
We had an opportunity talk with Julia and her mother Christy about Julia's experience with scoliosis and about the positive impact Curvy Girls has on the lives of those living with scoliosis.
When did you know that something was wrong?
Julia: In November 2009–when h1n1 was going around–I was pretty sick, and my mom was rubbing my back. She felt the difference in my shoulder blades, which we knew was not normal, so we decided that we needed to figure out what was wrong.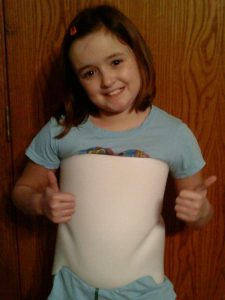 When I was diagnosed, I didn't know much about the disease. We came to Dr. Ferry to figure out where our starting point should be. We figured since he specializes in pediatric orthopedics that would be a good place to start.
Christy: We knew she had a curve, but we didn't know how severe it was at that point. I was absolutely shocked. I remember so clearly Dr. Ferry coming into the room and putting the xray up. I thought, "whose child is that?" I had no idea what I was about to see, but Dr. Ferry was very gracious and helped to prepare me.
How did that diagnosis affect you at such a young age?
Julia: Well, it did affect me just because I knew there would be different steps handling it. Knowing that I had to get a brace freaked me out because having a brace is different, and people don't often want to be different in that way, especially at a young age being different can seem like such a bad thing. That was difficult.
It was kind of cool to do the research portion, learning about what scoliosis is, what could happen, and what I might have to do. I was more aware of what was wrong than anything else.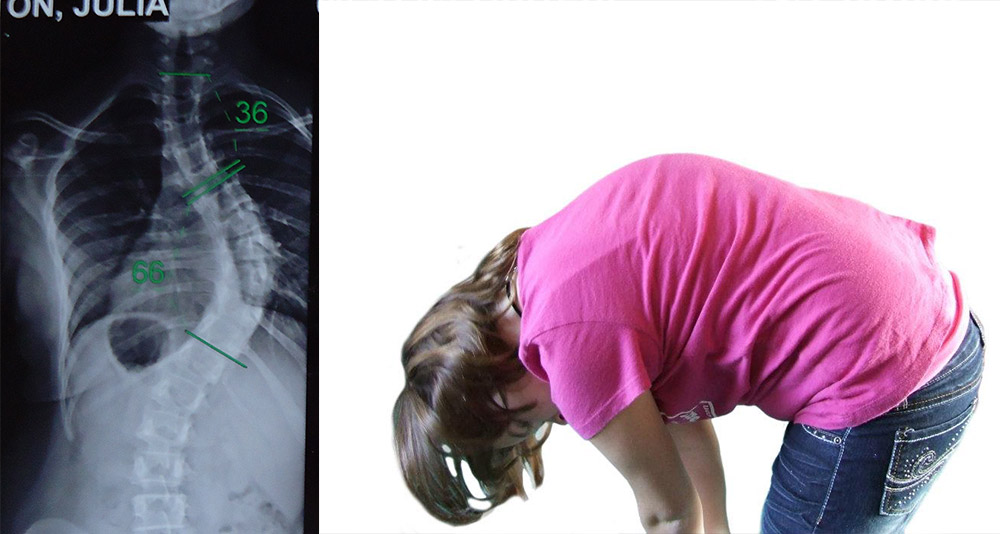 Did you feel that your classmates or friends were going to treat you differently?
Julia: People were very supportive, more than I expected them to be. It wasn't as bad as if it would have happened in high school–I think, but I didn't want to be different or stand out. Everyone in my class thought it was cool that I wore this "turtle-shell" brace and that my spine wasn't straight.
How long did you wear a brace?
Julia: I wore a brace for 2.5 years. When you have a brace, you have to buy new clothes. The brace adds thickness obviously. Pants were an issue. If I wore jeans, the brace would dig into my skin, so I wore leggings a lot. I had to get all new leggings, new sweat pants, new shirts.
Christy: –The brace would tear her clothes, tear straps.
You had surgery in 2012. Before that, what did treatment look like?
Julia: I had six-month checkups for the 2.5 years that I was in a brace, so I had a lot of x-rays taken, and I was slowly approaching the point when I would need surgery. When I was diagnosed, I was told I would need surgery because I had a 55 degree curvature. Every single time I had an appointment, the night before I would think, "Is this it? Are they going to tell me that I have to have surgery?" I also went through three different braces because I kept outgrowing them.
At what point did you found the Curvy Girls group?
Julia: In April of 2010, we found out about the group and wanted to join one, but the closest group was in Ohio. That wasn't an option, so we decided to form our own chapter of the group.
The group covers every single topic that the girls need. Whether they need self-confidence or are terrified of bracing, surgery, or just their next appointment. Whatever the girls need, the group is there to help them.
For me specifically, Curvy Girls is about girls helping other girls through all the stages of scoliosis. That goes all the way from people who were just diagnosed and may not need a brace to post surgery and recovering. It's girls always being there for each other, going through these experiences together.
We want people to feel like they're not alone in this because that was such a scary feeling. Having other girls who had already experienced all the stages of scoliosis was extremely helpful for me. Other girls encouraged me because they had already been through wearing a brace and surgery, and they were fine, so I would be fine too.
I think that's what Curvy Girls is meant to do: steer girls with scoliosis in the right direction, showing them how to stay positive when dealing with such a difficult thing.
Christy: We also offer suggestions for the best clothing brands or styles that work with the braces. There's an organization called Hope's Closet that makes beautiful clothing for girls with scoliosis.
It's also nice for the parents to have an opportunity to talk together and ask questions they feel they can't ask in front of their children.
How big is the group in Rockford?
Christy: Members cycle in and out as they have a need. So it goes in ebbs and flows. At any given time, the group will have 10-12 active members, but if you count everybody through the span since 2010, we probably have 60 members. Many members no longer require support, which is fantastic, so we don't see them as often.
---
Curvy Girls is open to anyone and any age. They've had girls as young as 6 to 30 year old women participate in the support group.
You can learn more about Curvy Girls at www.curvygirlsscoliosis.com.
We're so proud of Julia for stepping up at such a young age and working to help other girls through scoliosis.