Larry Zimmer's journey to recovery
How to (almost) dodge trees at night:
The evening of February third, Larry Zimmer sped through the Northwoods of Wisconsin on his snowmobile. As he rode through the snow, Larry saw a tree loom directly in his path. Without time to swerve out of the way, he leapt from his snowmobile!
Unfortunately, this story does not end with the hero dusting off his coat and walking away unharmed. When Larry jumped from his snowmobile, he smashed his right elbow into a second tree. The crash destroyed his elbow, shattering it into hundreds of pieces.
Thankfully for Larry, he wasn't alone. A Good-Samaritan onlooker helped Larry to the emergency room, but the facility could not handle the injury, so they put on a cast and some bandages and sent him to Swedish American Hospital's emergency room.
A challenging surgery on Super Bowl Sunday: not ideal.
At Swedish American, Dr. Bear and Dr. Zussman assessed the damage to Larry's elbow and formulated a treatment plan for Larry. An estimated four-hour surgery turned into 8 hours (on Super Bowl Sunday no less). By the end of the surgery, Drs. Bear and Zussman had added a cadaver bone, twenty-five screws, and five plates to the destroyed area.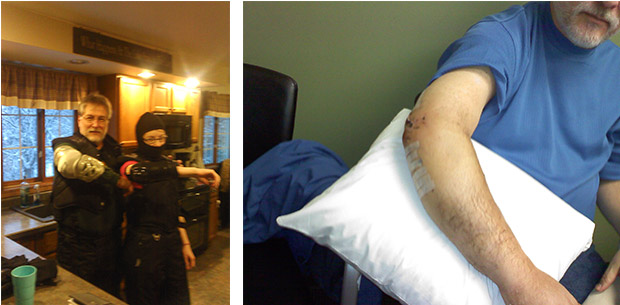 Now, the difficult part began: just waiting, waiting to see if everything would heal properly waiting to see how Larry's body would react to the grafted bone.
Larry's wife Susan described him as a Dagwood wood-working project. In other words, Larry was back together, but the intricate arrangement of plates, and screws, while effective, didn't look pretty.
After such a serious and destructive injury, therapy is an essential part of the success equation, and Larry tackled the therapy and dealt with the pain, persevering diligently through physical therapy. Prior to the crash, Larry was a snowmobiling, hunting, fishing, boating type of guy, and he wanted to be able to do all of that, and still be able to work around the house.
As therapy progressed and finished, everything looked promising. Larry had feeling in his arm, his hand had full motion, and his elbow returned to about 90% mobility, but then his body dissolved the grafted cadaver bone, which destroyed the screws and caused Larry a great deal of pain.
Larry undergoes a second round of surgery and therapy.
Susan Zimmer blames all of the power tools he used and pistols he shot for the returning problem. In Larry's case, too much fun turned out to be a bad thing, so he underwent a second surgery about a year after the first. Dr. Bear removed the screws and plates during the second procedure to let the bones heal independently.
Back to normal, except for the shooting guns and using jolting power tools.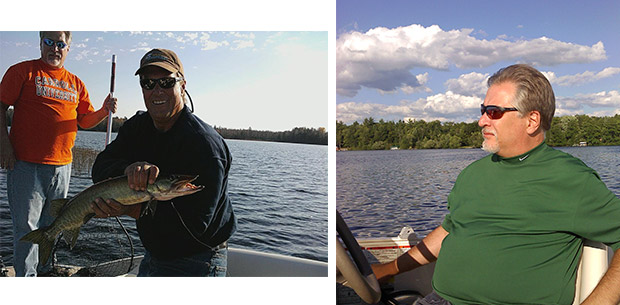 This time around, Larry steered clear of the guns and power tools, following strict restrictions. After being extremely careful with his lifestyle and successfully completing a second round of physical therapy, Larry finally recovered. Now, he's back to (almost) everything he could do before: fishing, snowmobiling, and all kinds of other fun activities are on the agenda again.
---
It's always great when these stories turn out perfectly, but we know that's not always the case. What matters here is that Larry can do most everything he could do before the accident. As the web and social media coordinator at Rockford Orthopedic, it's encouraging to read these stories and to talk to the patients who have experienced so much, who have fought through surgery and rehab, and who have been able to do more than they expected.
Daniel – web and social media coordinator