Dr. Chmell named to Best Doctors 2015-2016 list!!!
How do we react when one of our physicians is named as a Best Doctor in America? Something like this: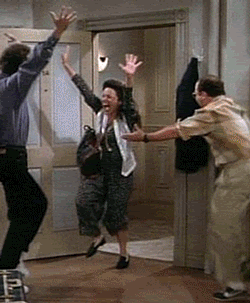 It's even more exciting this time because this is Dr. Chmell's first time on the list! That's important to us because it means that our physicians are always striving to improve the manner in which they practice medicine, and clearly, it pays off.
Only five percent of doctors in America earn this prestigious honor, decided by impartial peer review.
So If you're a patient of Dr. Chmell's congratulate him next time you see him, and if you're not one of his patients–well–congratulate him anyway by leaving a comment!
---
Dr. Chmell is a total joint replacement orthopedic specialist at Rockford Orthopedic Associates. As a Board-certified surgeon Dr. Chmell's practice at Rockford Orthopedic is focused on primary and revision knee replacement. He was fellowship-trained at Harvard University through Brigham and Women's Hospital and is now actively involved in continuing education as Clinical Assistant Professor at the University of Illinois College of Medicine. Dr. Chmell continues to participate in research and clinical outcome studies and has authored numerous journal articles.
Best Doctors has earned a sterling, worldwide reputation for reliable, impartial results by remaining totally independent. Doctors cannot pay to be included in the Best Doctors database, nor are they paid to provide their input. The List is a product of validated peer review, in which doctors who excel in their specialties are selected by their peers in the profession.
In bringing together the best medical minds in the world, Best Doctors works with expert physicians from its Best Doctors in America® List to help its 30 million members worldwide get the right diagnosis.