OrthoIllinois: Here When You Need Us
The team at OrthoIllinois has been here for our community since COVID-19 restrictions began in March, and we're here for you now.
Our dedicated team of physicians, physician assistants, nurses, physical and occupational therapists, and clinical staff never stopped seeing patients. As an essential business, we remained open the past few months to provide appointments for consultation, diagnosis, and treatment, as well as rehabilitation, MRI, X-ray, and surgeries at our OrthoIllinois Surgery Center.
We did this keeping safety top of mind and by following all necessary measures to protect our staff and patients and reduce the spread of coronavirus. Those measures continue to include universal masking, prescreening patients and staff (taking temperatures and asking about any COVID-related symptoms), practicing social distancing when possible, and rapid 2-day COVID testing for our patients preparing for bone and joint surgery.
Following state and local guidelines, we returned to regular hours at all our offices in late May, and we started scheduling elective surgeries again. We are reaching out to patients who may have had their procedures delayed or rescheduled so they can get the relief they need from pain and discomfort.
I've been thinking a lot about the term "elective" lately. If pain in your hips, knees, hands, feet, neck or back has affected your quality of life, taking steps to feel better certainly doesn't feel elective. That's why we adapted to keep seeing patients with urgent and emergent needs since March and why we started offering telehealth services so individuals could see a doctor or nurse or do therapy through a virtual visit from home.
As the saying goes, necessity is the mother of invention. We had been planning to implement telehealth services, and those have certainly blossomed during this period. It's a new service that will remain after COVID as an extension of our capabilities to better serve our high-risk patients and those living in rural areas.
While we've continued to see patients and navigate a new "normal," we're also still planning to expand our reach and capabilities to increase access to orthopedic services in northern Illinois. Construction is underway on a new McHenry clinic that will have sports medicine, rheumatology, physical therapy and our walk-in Injury Express services. That office is still on schedule to open later this summer.
We're also researching ways to expand ambulatory surgery services in Elgin and other areas where we're seeing increased demand for minimally invasive treatment options.
As we move forward, I want to thank our amazing OrthoIllinois staff again. They are our own heroes, committed to caring for patients during difficult times. I'm very proud of our team, and the positive comments and feedback we receive from patients every day are testaments to their dedication and hard work.
OrthoIllinois has weathered many storms since we began serving this community in 1967. Not only are we surviving and thriving, we plan to lead independent, subspecialty orthopedic care in this region for a long time to come.
We were safe before COVID-19, and we're safe now. Please find comfort in knowing we're here for you when you need us.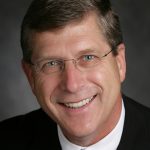 Don Schreiner, Chief Executive Office