River Run races into sixth year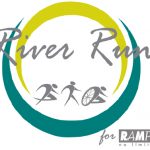 This year's River Run is just four weeks away, and it happens to be the event's sixth anniversary.
OrthoIllinois started the Labor Day weekend event in 2013 as a unique training opportunity for individuals participating in our Run Right Running Clinic, which aims to improve performance and decrease the risk of injury for runners and Pacesetter's running club.
The run took place the first year at Rock Valley College and all net proceeds were donated to RAMP. RAMP is a nonprofit organization that provides services and advocates for individuals with disabilities so they can live as independently as possible. Following the run's initial success, we changed the race route the next year to travel downtown along the Rock River. We also officially partnered with RAMP to co-host the event together as one of the organization's major annual fundraisers.
The River Run has grown to include half-marathon and 5K runs and a 3K walk/wheel-a-thon. New this year is a kids zone that features an obstacle course and other activities.
Rockford resident Tom Baker, 75, has participated in the River Run since its inception. He's been a runner for more than two decades – inspired by events such as the Olympics – and said he essentially decided to get off the couch one day and start running. On Feb. 6 of this year, Baker completed his 15,000th mile.
He joined the Rockford Road Runners, which was full of knowledgeable people who helped point him in the right direction. After that he was totally hooked. Running started off mostly as exercise for Baker. Then, he ran his first 5K.
Baker has run more than 350 races. He regularly ran the On the Waterfront 5K during Labor Day weekend, and when that event ended in 2012, he signed up for the River Run.
He takes time off here and there for injuries. "You can come back from an injury. You just have to be smart about it," he noted. Baker encourage anyone to try running and focus on a 5K as a goal.
"It's a manageable challenge and a good motivation," Baker said. "Running provides a sense of freedom, being outside with the breeze in your face. The miles seem to click by one after another."
This year's River Run takes place Saturday, Sept. 1. It kicks off at 202 Market St. in downtown Rockford. Visit riverrun.rampcil.org to sign up or for more information.