Telehealth offers convenient access to injury care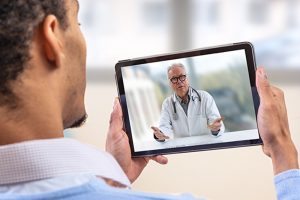 With restrictions in place related to COVID-19, we are pleased to offer telehealth consultations for new and existing patients in need of bone and joint care during this time.
Telehealth, also known as telemedicine, is a virtual visit allowing you to connect with an OrthoIllinois provider online from the convenience of home.
Per the governor's order about essential businesses, our OrthoIllinois clinics remain open to care for our community residents, in part to help hospitals deliver direct care related to the pandemic. We have instituted many extra precautions at our sites such as limiting visitors and checking temperatures and asking about symptoms at the front entrances.
Telehealth is a great option for injury care while most of us are sheltered in place. Many insurance companies have expanded health care benefits to cover virtual visits, and our schedulers can help determine if your plan will cover these services.
How does it work?
Call our office at 815-398-9491 as you would for a regular in-person visit. One of our staff will talk to you about your symptoms, ask about the history of your injury or condition and some additional questions to help understand your needs, and then schedule a convenient date and time for your virtual visit.
The visit will take place either through the OrthoIllinois Patient Portal or by using the Google Hangouts platform using your phone, computer or tablet. We'll give you instructions on how to download the app and additional information on how the format of the visit will work. On the day of your visit, you will meet one-on-one with our board-certified, fellowship-trained orthopedic surgeons from the comfort and safety of home.
How do I know if I need a virtual visit?
Our offices remain open and accessible to care for patients who are in pain or affected by injuries and other conditions to help them avoid unnecessary visits to the hospitals. For most conditions, an initial consultation can be done through the virtual visit platform to determine next steps, which may include an in-person visit if X-rays or an MRI are needed for further diagnosis.
Virtual visits are a good option for current patients for re-checks and for anyone worried about leaving their home but experiencing pain (such as back and neck pain or muscular pain) that is affecting quality of life.
What if my issue is more serious?
If it's a medical emergency, please dial 911. Our walk-in Injury Express clinics in Rockford and Algonquin remain open offering convenient urgent care for injuries. Examples of injuries that can be treated for walk-in care include sprains, strains, fractures, cuts and scrapes, work and sports injuries, or painful issues that aren't getting better.