Online telehealth therapy keeps Jenny Agnew on track to recovery after hip surgery
Jenny Agnew scheduled her hip surgery around a Disney running race, and now she's scheduling her OrthoIllinois physical therapy around COVID-19.
The 58-year-old Rockford resident was first introduced to OrthoIllinois several years ago after injuring her wrists. Dr. Kenneth Korcek performed her surgeries, and she did rehabilitation therapy at the time to assist with recovery.
In late November 2019, she developed pain in her right hip and went to Injury Express for an urgent care visit with Dr. Robin Borchardt. Imaging showed she had a labral tear (a common injury among adults), so she scheduled a follow-up appointment with Dr. Geoffrey Van Thiel in December.
Arthroscopic surgery was the best option to fix the issue. Jenny, an avid runner and exerciser, already had a Disney Princess race (a 10K and a half-marathon) with her daughter, Ellie Reed, scheduled and paid for in February, so she set the surgery for Feb. 27.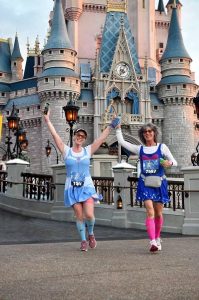 "The race itself was a blast," she said. "Sitting, walking, the elliptical, and sleeping were really painful, but running was one of the few things that didn't hurt. I started to get sore running through the end, but my daughter and I crossed the finish line. There at the end I said, 'I can't wait for that surgery now.'"
The surgery went well and was relatively painless, so Jenny started physical therapy a week later and finished three sessions before COVID-19 restrictions were put in place. Jenny's daughter and her family are living with her, and the full house includes a grandchild with heart, lung, and airway issues.
Jenny was concerned about delaying her treatment, but her priority was keeping her family safe.
"I was actually at therapy when it was announced that schools were closing," she recalled. "Living with an immune-compromised child, I knew I couldn't come to in-person therapy even if the therapy facilities stayed open. When I called to cancel my appointments, the receptionist asked if I would be interested in being added to a list of telehealth patients if it were something that would be put in place. I said absolutely!"
She worried that missing a few sessions initially would delay her recovery but said the telehealth PT sessions "have been an absolute game-changer for me." Other than certain stretches, Jenny can do most of the work on her own with OrthoIllinois Physical Therapist Taylor Riley guiding her over video chat.
"He can check my form, and I can show him where I'm feeling pain," she said. "He had my husband join in for the second session to help me with stretches. I was worried about missing time initially and if I'd still be on schedule. I can't say enough about telehealth."
Jenny likes using her tablet to have a bigger picture but said the technology is easy to use either way. She received email confirmations for each appointment and clicks the link to take her into a virtual waiting room with Taylor.
She encouraged others to give the virtual visits a try.
"It keeps everyone safe and it's still effective at helping you progress through your recovery. I feel 100% back on track now and that would not be happening if it weren't for telehealth!"